space frame single steel truss
Detalye sa Produkto
Mga Tag sa Produkto
1. Mga materyales sa istruktura
(1) Ang panguna ug sekondaryang truss ug suporta nga steel plate gihimo sa Q235, ug ang kalidad nga sumbanan kinahanglan nga magtagbo sa mga probisyon sa kasamtangan nga kalidad nga sumbanan nga "Carbon Structural Steel" (GB700);
 
(2) Ang string rod sa main ug secondary truss ginama sa hot-rolled seamless steel tube, tiyan rod, straight seam steel tube mahimong gamiton para sa suporta, supporting member, purlin ug uban pang materyales kay Q235B.
 
(3) Welding
Manwal nga welding: asero Q235
Nalubog nga arko awtomatikong welding: asero Q235
2. Paggama ug pag-instalar
(1) Ang paghimo ug pag-instalar sa mga istruktura nga asero kinahanglan nga mahiuyon sa may kalabutan nga mga probisyon sa "Code for Construction and Acceptance of Steel Structures" (GB50205-2001).
(2) Inspeksyon nga grado sa welding nga kalidad
Alang sa pabrika nga splicing-slag welds sa nag-unang materyal sa component ug ang dissolved welds sa site assembly interface, ang welding seam kinahanglan nga susihon sa grade II, ug ang fillet welds ug non-dissolved welds kinahanglan nga susihon sa grade III.
(3) Welding seam sa pipe intersecting interface:
Ang tanan nga steel pipe intersecting welds mga fillet welds, ug ang welding nga porma kinahanglan nga makatagbo sa mga kinahanglanon sa disenyo o may kalabutan nga mga detalye.
(4) ang splicing sa truss main chord kinahanglan nga likayan nga mahitabo sa parehas nga seksyon, ug ang splicing weld nga porma sa main chord kinahanglan magtagbo sa mga kinahanglanon sa disenyo ug may kalabutan nga mga detalye.
(5) Ang tanan nga mga trusses himoon sa mga seksyon, ug ang pabrika kinahanglan nga magpahigayon sa estrikto nga pre-assembly.Ang kinatibuk-ang welding sa asembliya ipahigayon pagkahuman sa pag-inspeksyon sa gidaghanon sa suplay (lakip ang pag-inspeksyon sa welding seam sa interface sa asembliya) sa site.
(6) Sa proseso sa pagtipig ug transportasyon, kinahanglan nga himuon ang mga lakang aron malikayan ang pagduko ug pagbag-o sa mga sangkap.
| | |
| --- | --- |
| Matang | Kahayag |
| Aplikasyon | Structural Roofing |
| Pagkamatugtanon | ± 3% |
| Serbisyo sa Pagproseso | Bending, Welding, Decoiling, Cutting, Punching |
| Aplikasyon | Mga Dimensyon sa Kinahanglanon sa mga Kustomer china prefab gymnasium |
| Kolor | Nahiangay nga Kolor |
| Atop | Sandwich Panel.Usa ka Steel Sheet |
| Sertipiko | ISO9001/CE/SGS/TUV/Nasyonal |
| Disenyo sa pagdibuho | SAP2000/AutoCAD/PKPM/3D3S/TEKLA |
| Pagtambal sa nawong | Hot Dip Galvanized |
| Uri sa estruktura | Portal Steel Structure |
| Garantiya | 2 ka tuig |
| Gidak-on | Nahiangay nga Gidak-on |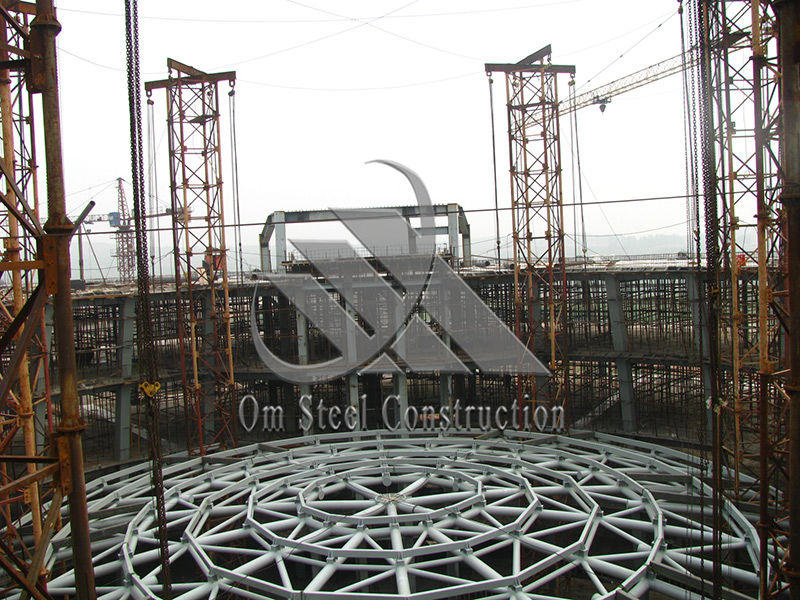 ---
Sunod:
Modernong Prefab Steel Structure Building Prefabricated Warehouse / Workshop / Aircraft Hangar / Pagtukod sa Opisina
---
May Kalabutan nga mga Produkto